Paver selection can be overwhelming, to say the least.  We will try to untangle to the web of questions you will need to ask yourself prior to signing any pavement contract.
When I meet with homeowners, nine times out of ten they have already selected a concrete paver that they would like to have us install.  Some contractors blindly agree and put a cost together for the project using this paver.  We, on the other hand, like to pause and walk the homeowner through some important considerations to factor in prior to settling on a paver choice. Typically we start from the bottom up as detailed below.
1. Does the site require a certain type of paver or base?
Each site is unique, and therefore should be addressed as such.  We NEVER quote any job on a square foot basis for this reason. First, we analyze the site to determine if there is a requirement for the use of permeable pavers.  An example of such a site would be an area of the project that is continually plagued with water issues or has a soil grade that would inhibit surface draining water when using a standard paver. This also helps us to determine whether we would use a densely graded base (traditionally used on standard pavers), or an open-graded base (used in our permeable systems). See this difference below.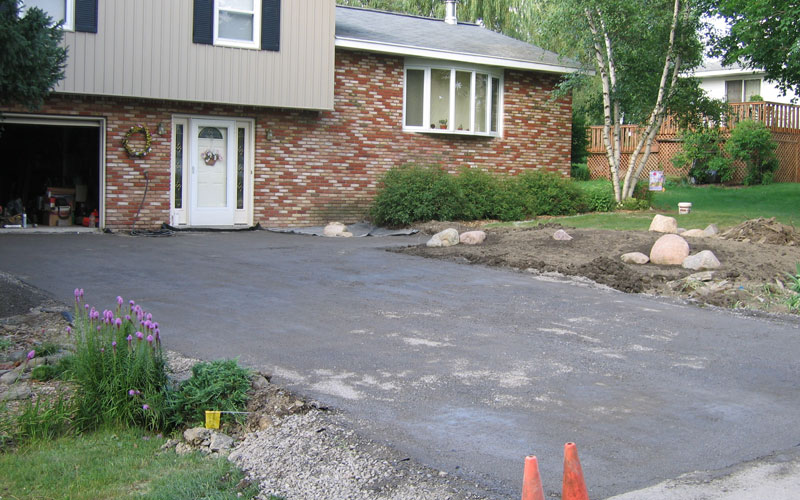 2. Determining application
It is important to determine the overall function of the area.  Will this area be used for pedestrian traffic or vehicular traffic?  If it is subject to vehicular traffic, then what is the Gross Axle Weight Rating (GAWR), or weight, of the vehicles that will be running over the paver?  This is immensely important as it relates to the depth of the base that is required, as well as the size of the paver being used.  Elegant Estates can take this information and calculate what depth of base is required based on the type of base being used, as well as what geotextile is required for the subgrade.  Answering these questions also comes into play when choosing a paver size. Professionals in our industry refer to a paver's aspect ratio when determining its usefulness.   What is aspect ratio?  Aspect ratio is the relationship of its overall strength relative to its length and height.  Essentially, the wider and longer a paver is made, the thicker they need to be in order to bear heavier loads. Keep in mind that you should factor in the worst case SAWR.  For example, if you are planning to have a paver driveway installed then you need to ask yourself questions like this – My home has a septic system, so I will need to have that tank emptied from time to time. How heavy are those trucks?  Not only that, you need to know that they will be a lot lighter when they show up, and tons heavier when leaving your driveway. When you, or your contractor, fail to factor these variables into the base equation it will lead to a failed base and overall rutting of your pavement.
Aspect ratio illustration:
3. Now to the fun part – paver selection!
Now that you have narrowed down the choices of paver based on the type of paver you need (permeable vs. standard paver), the type of base you will need (open vs. densely graded), and purpose of the pavement (in order to verify the proper size required), you can move on to identifying the "look" that you want.  There is still a multitude of choices left to wrestle though including, but not limited to shape, color, and texture, as well as design questions relating to the overall appearance of your project.  It is important to familiarize yourself with certain terminology when it comes to pavers and designs. This will be covered more in length in future posts.
Remember, if you are feeling overwhelmed with paver selection, and would like to have a professional handle the A-Z of the process for you, we are only a text, email or call away and would love to help you out!  To view or download any of our current vendor material catalogs, please visit our download page.