We get called to design and submit a hardscape bid on plenty of projects each year, both large and small. In an effort to become a better company when we lose bids I always like to ask our leads where we fall in line with the competition cost-wise.  It never ceases to amaze me when I ask specific questions that directly impact the price, to hear what kind of answers I get.  It often goes something like this –
Me: How did we fall in line cost-wise with the other hardscape bids that you received?
Homeowner: You were 20% more than the one we ended up choosing.
Me: I would like to ask a few questions on what they bid for you.  Is that alright?
Homeowner: Sure.
Me: How much base material did they quote for you?
Homeowner: They didn't say how much they would use.
Me: My notes show that you were interested in a curvilinear design.  That will lead to 5-10% extra stone waste.  Do you know if that is accounted for?
Homeowner: I don't know.  I just got a total figure for the job.
Me: Okay, did they detail what was going to be done on the project?
Homeowner: No, the quote says they will be installing a walkway and patio with plantings.  Total cost – $25,000.
Me: Did they reference the design number?
Homeowner:  There wasn't a design done.
Do you see where this is heading? THE. HOMEOWNER. GETTING. BURNED.  Well, not always, but why chance it?  I'm always floored to see how many people are willing to risk their hard earned money on a contractor's hardscape bid scribbled on a napkin or college ruled stationary. When the costs of larger outdoor living spaces range in price which rivals that of a new car to as much as a modest size house, why not require more detail in the bidding process?
Take the car example; how many pieces of paper did you need to sign in order to drive that new Toyota Camry off the lot?  What about the last time you signed off on your mortgage.  Yeah, we all know how much fun those closings are!  The point being, it is okay to ask for project details to be specified in the contract.  Any pushback from the contractor on this request should raise large red warning flags.  A detailed contract serves to clearly communicate the intention of the contractor, and verify that it aligns with your wishes.  It protects both parties!
For the purposes of this article, I will take a paver installation project.  It should not be out of the ordinary to show the following information:
GENERAL INFORMATION (Minimum):
Insurance- Type of insurance and verification if necessary.  Do not hesitate to ask for a certificate of insurance and to contact their agent to verify that it is still an active policy.
Certifications-  Is the contractor certified in this field of work?  (ICPI for pavers or NCMA for walls)
Experience- Has the contractor done this type of work before, or are you the guinea pig?
Payment- How is the project going to be funded?  Is there a 50% down, 50% upon completion?  A down pay with progress payments? Regardless of the payment structure agreed to, it should be listed.
Timeline- When is the project going to be started and approximate date of completion?  It is not uncommon for contractors to over promise and under deliver in order to get a quick signature.  Furthermore, let's be realistic – the weather is a huge variable so completion times should include some flexibility for weather delays and manufacturers issues.
Design– Was there a design done?  If so, it should be referenced if multiple revisions were submitted. If no design was done, how do you know you will be getting what you asked for?  Now, that being said, we do some installs at Elegant Estates without designs BUT we make it stated very specifically in the contract what we will be doing and how it will be installed before the homeowner signs off on it.  This is a process, and you should not feel rushed. Here is a typical design we do in-house for some medium-large projects that we install –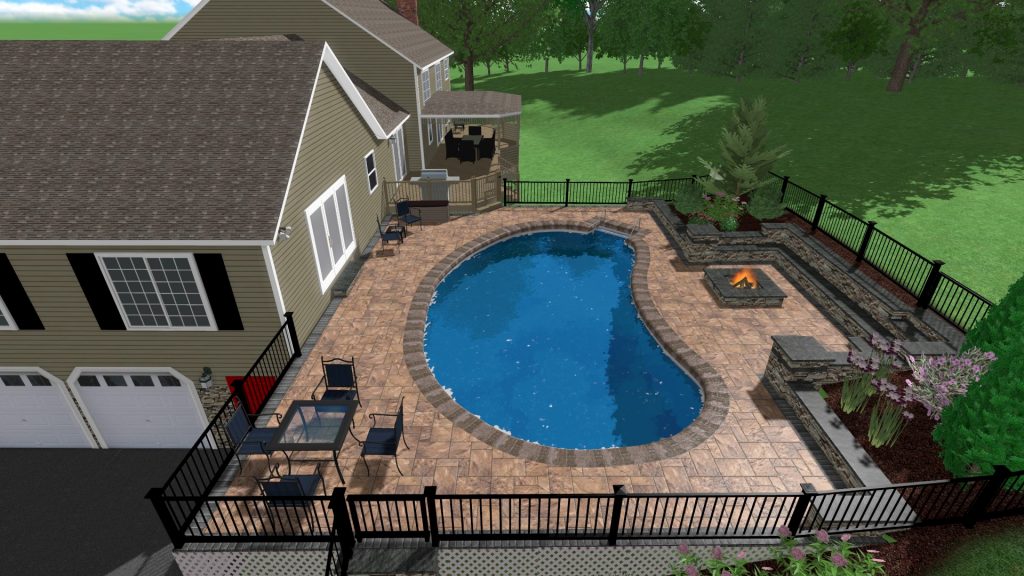 JOB SPECIFIC INFORMATION (Minimum):
How deep will the excavation be?
Will underground utilities be marked out?
Will geotextile be installed?
How much base will be installed?  What type, and how will it be compacted?
What kind of setting bed will be installed?
How much over-excavation will there be for edge restraints?
What kind of pavers will be used?  Color? Laying pattern?  Borders?
What kind of edge restraints will be installed?
What will be used in the joints between the pavers?
Does the project include cleanup?
Will the grading be done after work is complete?
Will the grass be reseeded where damage/grading is done?
Whereas the lack of general contract information can lead to overall general problems for you on a contractor & liability level, the lack of job information can come back on you in a financial sense due to change orders mid-stream, and worse yet the failure of your project or delivery of a result that you never originally wanted!
So, the next time you seek a contractor to do anything at your home, ask for a detailed hardscape bid.  You'll thank yourself later!